Changes, Changes is a book by Pat Hutchins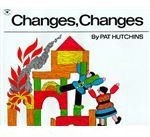 This book has no words and I was amazed at how it kept all the children's interest. We predicted what the people would build next. At the end of the story we recalled all the different things that were built. They did great with it. Some even asked to read it again. Since we share all our books from Creative Curriculum with another class, we had to give the book up for the day.
I decided to let the children make their own structures like in the book.
Like the book states, plans change.
My lesson plan shows the intent of the activity below.
First, we worked together to watercolor paint a large piece of paper. I then cut out shapes from the paper, and I added some other paper scraps from other cutting projects. Next the kids were asked to glue some shapes down to make something. I recorded what they made on each page along with their name.
We turned it into a book we will keep in our library. Now, the kids can read our story.
Well, 3 year olds who have never been aloud to use glue independently changed the activity to meet their own goals. Oh well. It is the process.
I still think the idea of creating our own book from our art work is a great idea, but it will have to wait on another art project and more experience with art materials.