I was attempting to show all the literacy center ideas as on post, but it has become a very large and long post. Therefor I am going to show you one center at a time.
Some things to remember about centers.
Centers need to be ever changing. Repetition is good. Kids learn exactly how to use the materials, but if you use the same materials day after day, week after week, month after month, the children will get bored and become a behavior problem.
Centers should be mostly independent. This way you as the teacher can facilitate, solve behavior problems, have small groups, and perform assessment.
Centers may seem like play to children, but they should be organized and purposeful.
Letter Work
provides children with multiple opportunities to play with letters.
Connect Game-
you will need plastic link toys (fine motor) and a set of upper case letters and lower case letters. Children then match the upper to lower case letter. You could use flash cards and punch a hole in each one or use one of these resources for letter cards. These could be put into a basket and pulled out on the table during center time.
here
is letters with some pictures that represent the letter
Upper case and lower case letters with
corresponding pictures
.
fish and eggs
in color or black and white
Letter exploration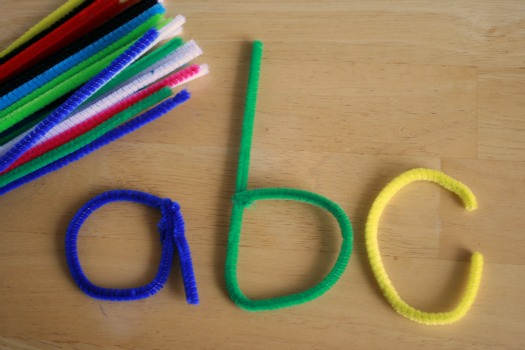 simple and colorful letters made from pipe cleaners
geo board letter mats
finding the alphabet game
making cute magnetic letters
magnetic stone letters
Fabric magnet letters
more cute DIY letters
rag quilt letters
I like how she used words to make a letter sound matching game
here
.
Here are neat color printable worksheets that could be addapted for centers.
Here
is a cute way to practice writing letters
I love this teachers centers- here are a few upper case and lower case sorting printables
Here
is a letter sound cut and paste along with other ideas.
These are just a few ideas for a center that exposes children to letters. Do you have any neat ideas you would like to share?